Pioneer has launched the portable music player XDP-100R, presented at the 2015 Edition of the IFA. This product offers various interesting features: we start from the operating system, consisting of Android 5.1.1 and managed by a quad-core processor Qualcomm APQ8074, operating at 2.2 GHz and with 2 GB of RAM. The display has a resolution of 1280 x 720 4.7 "with pixels and touchscreen. The presence of Android lets you download apps from the Android market: among the available options include Tidal and Spotify (all services for listening to streaming music). On all specimens will be preinstalled application Onkyo Music.
Inside there are valuable components: digital-to-analog conversion is handled by theES9018K2M ESS Sabre DAC, while the management is delegated to a headphone amplifierESS9601K. Supported files include substantially all of the main types, from MP3 to Direct Stream Digital (DSD) up to 11.2 MHz, besides WAV and FLAC with sample rates up to 384 kHz/24-bit. The Pioneer player, therefore, is fully capable of handling thehigh resolution audio.
Playable formats are as follows:
Audio: DSD, DSF, DSD-IFF, FLAC, ALAC, WAV, AIFF, Ogg-Vorbis, MP3, AAC, MQA
Video: h. 263, h. 264 AVC, MPEG-4 SP, h. HEVC 265, VP8, VP9
Images: JPEG, GIF, PNG, BMP, WebP
XDP-100R is also compatible with MQA (the support will come with a firmware update) , a technology developed by Meridian. MQA, which stands for Master Quality Authenticated, is nothing but a new way to deliver high resolution audio sources, without burdening the weight files. The result was achieved through the use of frequency inaudible to the human ear.Instead of "wasting" this space, with no data relevant to the listening, Meridian chose to include the data that normally would be lost during the making of compressed audio files.
The benefits are numerous for vintage style music player sold on Internetages: you can create audio files in high resolution 24-bit/96 kHz, with quality, occupying a bandwidth of 1Mbps, clearly inferior to 4-5Mbps normally required. The second point is the compatibility to 360°: files so made do not necessarily require compatible hardware. Who does not have a chip able to decode additional data (those included in the space occupied by the inaudible frequencies), listen to a version of the tracks in CD quality. If instead you use compatible devices such as Explorer 2, you will also get the decoding information in addition, obtaining a quality equal to that of the masters made in recording studios. MQA can be used with all types of lossless files in high resolution.
Storage space is 32 GB, with the option of using two microSD slot to expand capacity, up to 432GB. Connectivity includes WiFi and Bluetooth, a USB port and a headphone output. The autonomy can reach 16 hours on a single charge. We conclude with the size: 75.9 x 13.0 x 128.9 XDP-100R measure mm, weighing 198 grams.
Gallery
goRack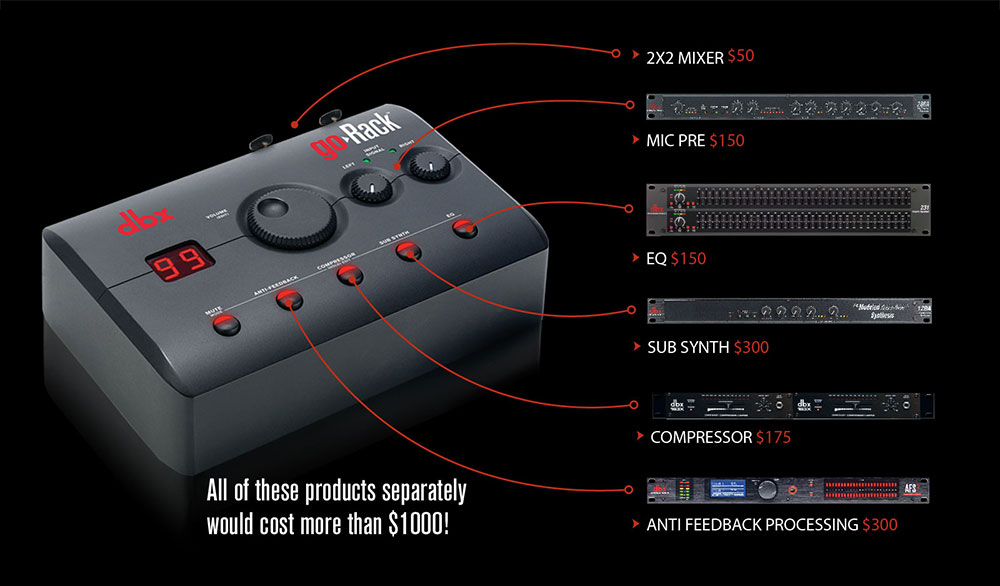 Source: dbxpro.com
QTX QR8 Portable PA Speaker With Wireless Microphone at …
Source: www.gear4music.com
Studiomaster Club XS 8 Compact Analog Mixer with Bluetooth …
Source: www.gear4music.com
Behringer MINIAMP AMP800 Headphone Amplifier at Gear4music
Source: www.gear4music.com
Digital Drums 502-J Electronic Drum Kit by Gear4music …
Source: www.gear4music.com
Sennheiser ME2-US Lapel Microphone at Gear4music
Source: www.gear4music.com
Deluxe Bassoon by Gear4music
Source: www.gear4music.com
Yamaha FG830 Acoustic Guitar, Tobacco Brown Sunburst at …
Source: www.gear4music.com
Rosedale Professional Oboe, Ebony Body, By Gear4music at …
Source: www.gear4music.com
Greg Bennett Avion AV-1 Electric Guitar, Black at Gear4music
Source: www.gear4music.com
DISCONTINUED Fender Highway 1 Telecaster, RW, Honey Blonde …
Source: www.gear4music.com
Chicago Fretless Bass Guitar by Gear4music, Natural at …
Source: www.gear4music.com
Harlem X Electric Guitar by Gear4music, Black at Gear4music
Source: www.gear4music.com
Eagle Outdoor Garden Speaker Slate Rock, 120W 8 Ohm at …
Source: www.gear4music.com
Gretsch G5420T 2016 Electromatic Hollow Body Guitar, Aspen …
Source: www.gear4music.com
Fender Duo-Sonic Electric Guitar, MN, Capri Orange at …
Source: www.gear4music.com
BDK-1 Full Size Starter Drum Kit by Gear4music, Blue
Source: www.gear4music.com
Fender American Special HSS Stratocaster RW, 3-Tone …
Source: www.gear4music.com
Tenor Saxophone by Gear4music, Gold at Gear4music
Source: www.gear4music.com
Washburn AB10B Electro Acoustic Bass Guitar, Black at …
Source: www.gear4music.com