Whether you are planning to navigate in a kayak around the beautiful and remote coast of Norway, walk along the paths of the Himalayan mountains or explore the Scottish Highlands: now you can travel safe in the knowledge that the civilized world is just a phone call away.
So begins the press release that introduces new Thuraya satellite solutions: SatSleeve + and SatSleeve Hotspot. Thuraya, a leading global satellite phone services international offer very niche but requests by experienced travellers and explorers who want to stay connected and share their experiences from even the most remote locations.
SatSleeve Hotspot: it's a Wi-Fi hotspot, which makes it easy to check their email, phone or post on social media from anywhere, whether Russia, the North Sea or the Sahara. Simply turning it on, you can connect to the satellite network and bring your tent mounted in a middle of nowhere and at the mercy of the elements, with the rest of the world.
SatSleeve +: another product Thuraya just came out on the market, it is an accessory that looks like a cover and that fits perfectly to your smartphone into a satellite phone. With SatSleeve + of Thuraya, you can make calls, send messages and emails and use all applications on your phone.
Both devices feature an SOS button that allows them to connect to a predetermined number of your choice in case you find yourself in trouble, with the certainty that someone receives your call for help.
The Chief Executive Officer of Thuraya, Bilal EASsaid: 'SatSleeve hotspots and SatSleeve + are really innovative accessories. Any of the two you choose, will be the must-have gadget for all of you travelers and explorers. Each of these will be perfect when you travel to the most remote, ensuring that you can always call your friends and family and keep in touch using your smartphone. Both products will enable more and more people are staying in coantatto and travel safe.
SatSleeve + SatSleeve Thuraya satellite network and Hotspot use, reliable and consistent in 161 countries in Europe, Africa, Asia and Australia. Enter in your smartphone the Thuraya GSM SIM card or a card of one of the more than 360 partners around the world to stay connected.
The suggested retail price of SatSleeve + is € 540 so as to SatSleeve the Hotspot. You can buy it online on the portal Expansys or one of its reseller partners to Thuraya. The full list, details and cost of the service can be found on our site.
Gallery
Thuraya SatSleeve for Android (Samsung Galaxy S4 …
Source: www.bta-mall.com
SATELLITE PHONES THURAYA SATSLEEVE ANDROID
Source: www.paranautica.com
SatSleeve for Android
Source: www.thuraya.com
Thuraya SatSleeve Adapter for iPhone 6
Source: www.ebay.com
Hands on: Thuraya SatSleeve for Android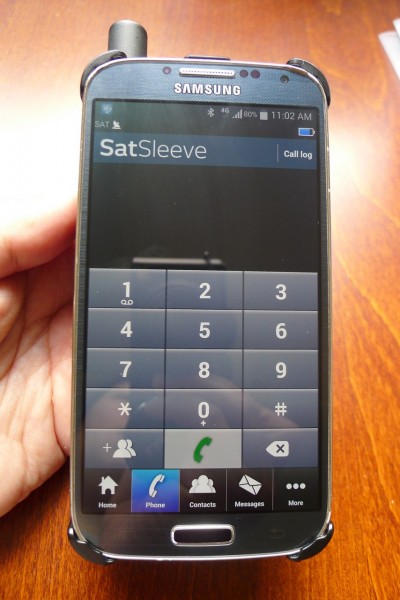 Source: www.techgoondu.com
Thuraya SatSleeve Android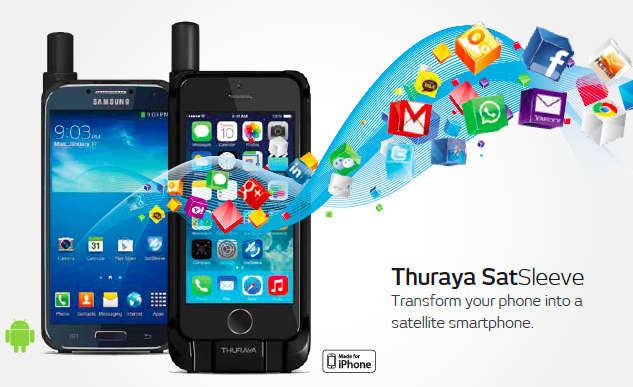 Source: www.satcom.pro
SatSleeve for Android
Source: www.thuraya.com
SatSleeve for Android mobile phone Thuraya, View High …
Source: huayang-tech.en.alibaba.com
Thuraya Satellite Satsleeve WiFi Hotspot for smartphone …
Source: www.alumigogo.com
Thuraya satellite Satsleeve + (Plus) for Smartphones …
Source: www.bta-mall.com
Thuraya satellite Satsleeve + (Plus) for Smartphones …
Source: www.bta-mall.com
SatSleeve for Android | Satellite Mobile Phone
Source: www.thuraya.com
Thuraya satellite Satsleeve + (Plus) for Smartphones …
Source: www.2daydeliver.com
SatSleeve Turns Smartphones Into Sat Phones
Source: doitinpublic.com
SatSleeve for Galaxy Phone New Thuraya Sat Sleeve …
Source: www.youtube.com
Thuraya SatSleeve for Android (Samsung Galaxy S4 …
Source: www.2daydeliver.com
Hands on: Thuraya SatSleeve for Android
Source: www.techgoondu.com
Hands on: Thuraya SatSleeve for Android
Source: www.techgoondu.com
Meet The World's First Satellite Android Smartphone …
Source: howafrica.com
Free shipping on Thuraya SatSleeve
Source: www.g-layer.com.au