2013 begins and how it could be otherwise, after assessing what has been the best 2012 we will look forward to see what holds us this year and what we can expect from him. So as we have already seen three smartphones that will hopefully, going to see what will bring us the tablet sector for this new year.
And since this section on Android is not so consolidated as on smartphones, it is difficult to select three specific models and to do so it would not be so revealing. Is why we have focused on the trends that, at the most general level, we hope that they attain in this 2013.
Best screens
It is common that when we buy a new tablet we find that the high range, Unlike what happens in smartphones, it is really reduced. There are few devices that pass what we could catalog 'range of entry', while it is true that we have a wide variety of products in this section.
But one of the major drawbacks that are to these devices is, without doubt, screens. Currently not only still being low resolution tablets, but it is still presented, both in models of 7 and 10 inch.
So, we have 7-inch models with a resolution generalized 1024 x 600 – and occasionally up to 800 x 480-, when these tablets are those used most commonly for reading, or 1280 x 800 in the field of 10 inches.
So this year, which is marked the entrance of the FullHD on 5-inch smartphones, we hope that this trend continue in parallel in the tablet sector, and see at least the devices 10-inch high-end uploaded to the 1920 x 1200. This way to – with its 2560 x 1600 points – Google marks the step with the Nexus-10, we look forward to seeing the next Nexus 7 in this resolution.
At the moment, there are few tablets that behave in good shape in this aspect, such as own Amazon Fire line or the Transformer Infinity ASUS, from whom we expect an update to the hardware of the new year (and it must be fall) with open arms.
In summary, set the minimum resolution in 7 inches in HD at the same time that the 10 inches to the FullHD for a fairly competitive tablet.
Best applications and ecosystem
Another big point against choosing a tablet with Android is also the shortage of applications, resulting in a immature ecosystem making that a large percentage can opt for other options such as which offers from does not much Microsoft with its Windows 8.
And is that much of the manufacturers of tablets with Android is still with the aftermath of Honeycomb, that 3 version of Android that was made fast and running to accommodate tablets with Android, which sold quite poorly and caused many – pointers and both non – manufacturers, such as HTC, out running of what was expected was a gold mine.
Since then, the tablet sector has been in the expectant background, waiting for some sign that would react to the market. This signal are tablets Nexus 7 and 10, in which Google has put all its efforts and from which are directly engaged in a race to improve your software and create a full and rich ecosystem.
This has begun to arrive with Android 4.2 (Jelly Bean), with features such as the multi account support or widgets of the lock screen. But much remains, and is expected to make the leap into Android 5.0, where Google could approach somehow your operating system's desktop, Chromium, and its mobile operating system in any way, enriching both.
Finally, I would say in terms of the lack of well tailored applications that are going behind the market. They Iran appearing to the user take tablets with this operating system. As there is that market investment in favor of Android that has already begun.
Better adaptation of docks
This point, along with the former, may be facing the options of Microsoft winning combination. Not everyone finds utility in a tablet, where still the workflow that is achieved is very limited. This is why there are people that is released to the convertible.
It is basically the configuration that now dominates Asus with its line Transformer, where the King is without a doubt the Infinity.
For now, there is a low implementation of such systems, which often make us resort to third party accessories. This would not be all bad if the overall quality and variety of these were a bit more bulky than it is currently.
In 2013, we believe it may be a more pronounced tendency, which would give the so-called implementation of Chromium OS an additive at the hands of the manufacturers of Android tablets more consolidated.
Gallery
Acer Iconia A3 tablet announced: 10.1-inch IPS display, 1 …
Source: www.noypigeeks.com
Android Ahead Of iOS Tablet Market Share
Source: www.businessinsider.com
IDC: Apple tablet share in Q2 falls to 32% as Android …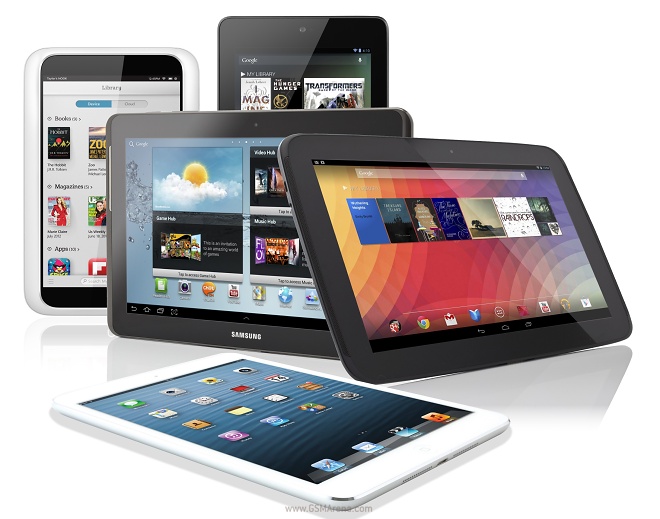 Source: blog.gsmarena.com
Souq
Source: uae.souq.com
Samsung announces Galaxy Tab 3 8.0 and 10.1
Source: phandroid.com
Acer officially unveiled their latest Iconia A1 tablet
Source: playfuldroid.com
4 Predictions for Tablets in 2013
Source: mashable.com
Intel shows off Atom Silvermont reference tablet with quad …
Source: phandroid.com
Android Rumors: New hardware and software coming in the …
Source: www.digitaltrends.com
Where Are The 15-Inch Tablets?
Source: pocketnow.com
Hands-on with Acer's DA241HL 24-inch all-in-one running …
Source: www.engadget.com
Intel scores in tablet chips but success may come too late …
Source: www.slashgear.com
Samsung announces Galaxy Tab 3 8.0 and 10.1
Source: phandroid.com
Acer teases a tablet launch at Computex 2013
Source: www.bgr.in
tablet pc rental
Source: hamiltonrentals.wordpress.com
Future Tech 2013: Tablets
Source: www.pcworld.com
HP Mesquite Android Tablet Hits Walmart on Black Friday
Source: www.technobuffalo.com
Hands-on: Polaroid's Android-powered Kid's Tablet [VIDEO]
Source: phandroid.com
Verizon's Ellipsis 7 Android tablet announced.
Source: www.digitaltrends.com
CES 2013: 8 Things to Expect
Source: www.laptopmag.com